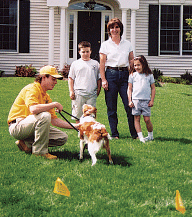 Dog Guard History
Dog Guard has been in the business of protecting family pets since 1988. We have thrived since then in producing high quality, reliable products that are superior to all others. Distributed through our nationwide dealer network, Dog Guard Products reach thousands around the United States each year. Dog Guard will safely contain your pet using time-tested training techniques, without costing you a fortune.
Innovation…
Dog Guard offers products include the latest and greatest features that are available on the market. Our T-4 Transmitter has an industry-leading 32 adjustable levels of correction. Each system is coded with a unique code, making our systems virtually immune to all interference.
Made in the USA…
All Dog Guard products are produced 100% in the United States. As consumers ourselves, we know how important reliability of these products is to insure that your family-loved pets are kept safe both day and night. We do this all while keeping as many jobs at home as possible.With our unparalleled dealer support, superior hands-on training and the Dog Guard® lifetime equipment guarantee, you and your pet can enjoy the benefits of a Dog Guard Out-of-Sight Fencing System for years to come!
Cincinnati Dog Guard
Cincinnati Dog Guard is has been serving the area since 1998, and looking forward to serving all your pet containment needs for years to come.  Justin, the Owner, is committed to the best in pet containment for the the following Cincinnati (OH) communities:

Hamilton County in Ohio along with Boone, Kenton and Campbell Counties in Northern Kentucky.
If you have any needs please feel free to call (513) 289-8774 or contact Cincinnati Dog Guard!
OH Electronic Dog Fencing